CONSIDERING AN AUCTION?
CONTACT US AT 573-592-1939 TO SPEAK WITH US.
Personal Property of Joe & Marlene Crane and David Crane Auction #3
We are excited to offer our customer's a new bidding Platform. This platform is relatively new, but has offered GREAT SUCCESS already!  You can click on the link below, or go directly to 
https://www.apro.bid/auction/personal-collection-of-joe-marlene-crane-and-david-crane-3-2455/bidgallery/
If you have any questions or concerns, please contact us at either 1-573-592-1939 or 1-573-310-3259.  
CRANE ONLINE AUCTION- #3
Bidding Closes – Tues., Sept. 1st, 2020 Starting @ 6:00 pm
3881 Pearl Street, Williamsburg, MO 63388
Directions: From I-70, Take Exit 161 and Turn Left on YY/D. At the Second Stop Sign turn Left onto CR 184. Auction will be on the Right at the Corner of Pearl Street. Watch for Signs.
Preview Dates: Thurs., Aug. 27th & Mon., Aug. 31st, 2020 (4-6pm) Pickup Day: Wed. Sept. 2nd, 2020 (10-6pm-FIRM)
AT 3881 Pearl Drive, Williamsburg, MO 63388
.
We at Wolfe Auction & Realty, LLC are proud of our reputation and of the respect we have earned in the past. Why not let us earn yours in the future? Wolfe Auction & Realty, LLC is a full service, professional auction & real estate company…call us today for you free consultation!
Wolfe Auction & Realty, LLC believes in the auction business and the open market, free enterprise system that it encompasses. Everyone has an equal opportunity to purchase and the seller knows his auction was held in a competitive atmosphere. Whether it be the dispersal or purchase of real estate or personal property, consider the possibilities of reaching your goals with the help of Wolfe Auction & Realty, LLC.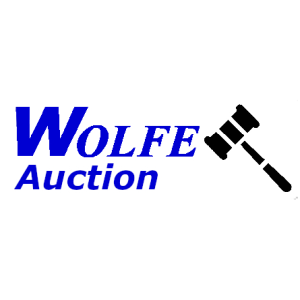 Offsite Online Auctions: We offer a 3,000 sq. ft. secured indoor auction facility with 2,000 sq. ft. additional outdoor space. This option gives more privacy to you & a great option if parking is limited or the location is hard to navigate.
Onsite Online Auctions: This option is a good selection for estate sales or large sales that would be too cumbersome to move to the auction facility or maybe the sale would not be able to financially support a move.