CONSIDERING AN AUCTION?
CONTACT US AT 573-592-1939 TO SPEAK WITH US.
Due to Covid 19 - All Auction Are Subject To Date Adjustments
Estate of Edward and Barbara Lauer
Open now through 5-19-20, Closing Begins at 6pm
Pickup Time is 5-20-20 From 4-6pm
Preview Dates are 5-14-20 from 3-5pm and 5-18-20 from 4-6pm
Auction Includes: Several .22 and .25 Caliber Handguns, Boyds Bears, Vintage and Antique Furniture, Zero Turn Mower.
Williamsburg PTO Carnival
Opens May 11th, 2020 through May 29th, 2020
Includes North Callaway Athletic Gear, Gift Cards, and other great items!
We at Wolfe Auction & Realty, LLC are proud of our reputation and of the respect we have earned in the past. Why not let us earn yours in the future? Wolfe Auction & Realty, LLC is a full service, professional auction & real estate company…call us today for you free consultation!
Wolfe Auction & Realty, LLC believes in the auction business and the open market, free enterprise system that it encompasses. Everyone has an equal opportunity to purchase and the seller knows his auction was held in a competitive atmosphere. Whether it be the dispersal or purchase of real estate or personal property, consider the possibilities of reaching your goals with the help of Wolfe Auction & Realty, LLC.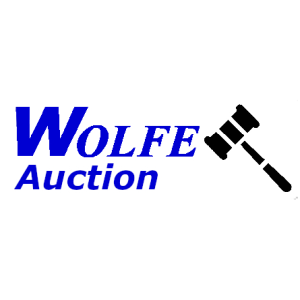 Offsite Online Auctions: We offer a 3,000 sq. ft. secured indoor auction facility with 2,000 sq. ft. additional outdoor space. This option gives more privacy to you & a great option if parking is limited or the location is hard to navigate.
Onsite Online Auctions: This option is a good selection for estate sales or large sales that would be too cumbersome to move to the auction facility or maybe the sale would not be able to financially support a move.